Busty Courtney Taylor bound in
strict bondage, brutal
drooling messy deepthroat,
rough fucking! | Courtney Taylor | Matt Williams


Dec 24, 2014




Blonde bimbo bent over in bondage and used hard from both ends

Tan, blonde and busty with giant blow job lips, Courtney Taylor is the perfect sex toy. Her tight shaved pussy and well trained mouth hole cries out for the dick. And we are going to give this sexbot exactly what she craves. Bent over a custom made wooden bondage device, both ends are wide open for access. And access them we do.

We start off with a vibrator on that flawless pussy. Pleasure is always more intense when you can not escape away from it, and Courtney moans as pleasure rips through her bound body. We make full use of that opened mouth and sheath hard cock in balls deep. The drool pours out as as we use her face pussy before shifting to the other side. Back and forth we shift, training out her holes until they are custom fitted.

Today is about a total unraveling, and we add back in the vibrator. The bondage, the orgasms and the dick do the trick as our blonde sexbot going spiraling into sexual subspace. A vacant look dances across her messy drool covered face. Her huge breasts heave and she leans limply in her restraints.

This one is all used up. Next!
Big titted blonde Courtney
Taylor bound blindfolded and
facefucked, epic drooling
deepthroating! | Courtney Taylor | Matt Williams


Dec 1, 2014




Busty blonde gets brutal blindfolded throat training in strict bondage

When you want a barbiebot to sheath your dick into, you want a Courtney Taylor. This tall tanned big breasted blonde is a prime piece of pussy that is in today to be brutally throat trained as Sexuallybroken does best. We are going to use Courtney's face like a pussy until her throat is custom fitted for our dick.

We start off with having this leggy blonde blindfold herself and then strip. It is always nice when they do the work for you. With her booming body ripe for the plucking, we drop her to her knees and bind her securely in place. The bondage keeps her at the perfect height for dick to the face and we take full advantage of that fact. It is a relentless drilling of those huge puffy blow job lips as drool pours out. The blindfold keeps her dazed and disoriented, she can not anticipate the cock, only accept her fate.

What follows is a total deconstruction by dick. We are not going to stop until this barbie is on the floor twitching. Courtney gasps and moans as the dick owns her throat. We never slow down, never let up, never give our bimbo a chance to get on top of it. Ripping off the leather blindfold so that we can see her eyes watering above the hard cock, we keep on going. This is what she was made for.

Courtney takes it like the fuck toy she is, her makeup destroyed and her lips swollen. When we have had our fill, we have we assume the position like the properly trained pet that she is. Courtney kneels obediently, head tilted back and mouth open wide. It is a good look for her...
Bondage Barbie | Courtney Taylor | Jack Hammer
Nov 26, 2014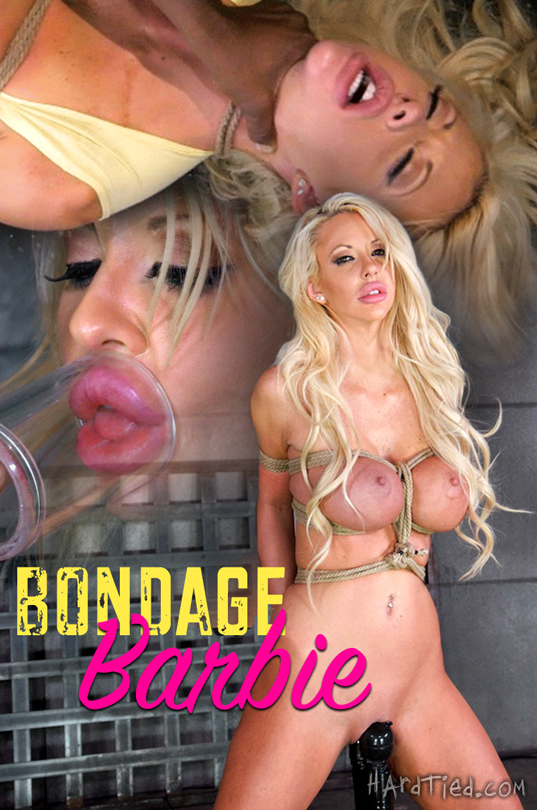 The way this Bondage Barbie looks you would expect her to be mass produced. Tits too perfect to be anything but silicone and hair too blonde to be anything but bleached, there is only one thing Courtney Taylor that Jack Hammer is convinced is real: this is a woman who is really looking for some rough action.

There is no place better to find what she's looking for. We're talking tight ropes, crazy positions, and some punishing surprises. She's never had her clit pulled on by a suction cup before and it makes her more sensitive than she could have imagined. That's when Jack hits her with the Hitachi, then the flogger, then our very own fucking machine, all in a row, taking her poor pussy through more punishment than she thought was possible.

But we said her love of bondage was real and we weren't kidding. Most girls would be crying, with tears running down their face. Courtney wet alright, but it's all a lot lower. She is so wet that her cunt is glistening. Sure, it hurts, but if it didn't she wouldn't be able to get off on it. And get off she does. So much that the floor under her is wet from her juices.
Sexy huge breasted Courtney
Taylor bound onto fucking
machine, pounded hard with
brutal deepthroat! | Courtney Taylor | Matt Williams


Oct 31, 2014




Big breasted blonde bimbo belted down on a fucking machine and face fucked by hard cock

Courtney Taylor is a barbie doll come to life. Huge tits, big blow job lips, juicy bootie, long blonde hair, tan and a shaved pussy. This sexbot was put on the planet to fuck and she is very very good at it. When you see her walking down the street you want to bend her over the nearest bench and stuff all her holes full of cock. Today we are going to put our sex doll to the test.

We belt her down onto a custom made wooden bondage device with thick leather straps. Her tan oiled body gleams under the studio lights and her giant breasts jut up to the ceiling like mountains. A fucking machine is bolted in place between her lean thighs. The dildo is shoved deeply into her perfectly shaved barbie cunt. Time to make this bimbo cum.

Once the machine is flipped on, you can actually see her stomach move outwards with each stoke as the machine owns her pussy. Courtney cums, hard and fiercely, moaning though her huge blow job lips. We accept the invitation and slide a hard dick balls deep right into her face pussy. This barbie is now airtight, stuffed from both ends. She is living up to her purpose, drooling on the dick as the fucking machine bulges out her abs. Her eyes water and her makeup is slowly destroyed. When makeup meets dick, dick always wins.

Courtney's eyes glaze and she sags limply in her bondage as her throat is plowed by hard cock. This is her true purpose. This is what she is meant to do. This sexbot is a keeper. We drive a few more thrusts into her open drooling mouth just to remind her of her place before walking away. We are definitely going to have this one back, she was born for the dick.
Iron Bound | Courtney Taylor
May 24, 2013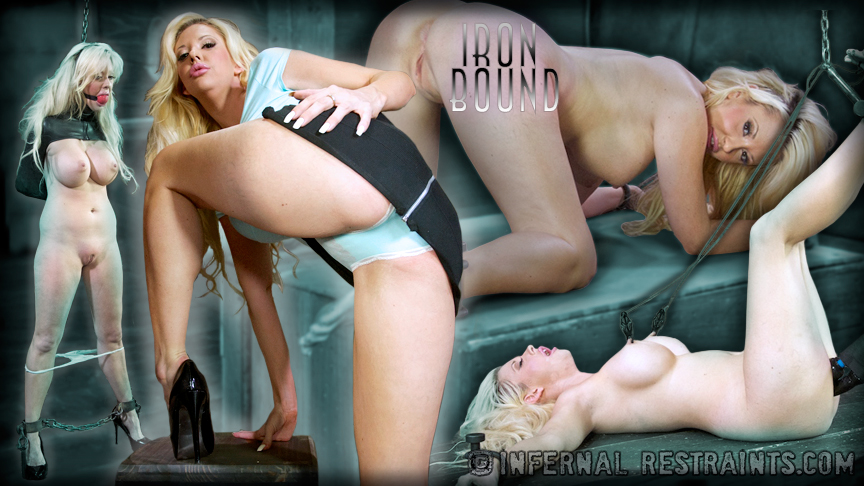 Courtney Taylor has no idea what iron bondage is about. She can't even recognize what most of these metal contraptions are for. And then she says the fateful words. "Ok, well... I trust you." Trust is such a funny thing.

She must think she is too hot to hurt. A lot of girls like her do. She has the huge tits and blonde hair that make men do stupid shit for her. Today will be all about what we would like to do too her.

How much punishment can those tits take? How long can she hold back the waves of orgasms? What twisted positions can she languish in, and for how long before she has to beg to be released?

Ever scene is another test, both of the limits of Courtney's endurance and the depths of our perversion.